Shipping: Stamps.com, Step 3: Export Mapping
This feature is part of the Shipping Add-On, which is an additional module that enables ODBC-capable programs, such as Excel or Stamps.com Professional Shipper to retrieve data from Big Business Server.


This Solution describes connecting from Stamps.com Professional Shipper. (6102)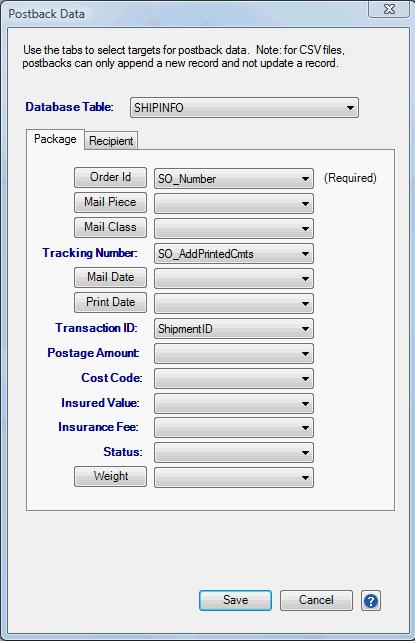 The Shipping Add-On is an additional module that enables ODBC access to data in Big Business Server. This Solution describes using the ODBC capabilities of Stamps.com Professional Shipper to post data back to Big Business Server.

This step follows, Step 2: Import Mapping, an earlier entry.

To Export data to the Sales Order in Big Business:

1. In the Post Back dialog choose, Same data source, and click Next
2. In the Database Table drop-down choose, SHIPINFO
3. On the Package tab, for Order ID choose, SO_Number
4. Choose target fields as appropriate and click Next
5. Enter Profile details and click Done

Refer to Fields for Writing, a later entry, for details on the available fields. It appears that Stamps.com only allows one target field for each, but again, you may return to Edit this profile later as needed.

Once complete, choose your new entry in the Profile drop-down, key a Sales Order number into the Order ID field, and click Get Order. When you Print postage, the Sales Order in Big Business will be updated.


Related:
(Next) Shipping: Fields for Writing Ship Info (1 of 2)