Shipping: Shipment Information
This feature is part of the Shipping Add-On, which is an additional module that enables ODBC-capable programs, such as Excel or UPS WorldShip, to retrieve data from Big Business Server.

This Solution describes using the Load Addresses option that is designed for integration with a shipping solution such as UPS WorldShip and added in Big Business 5.1.0. (5988)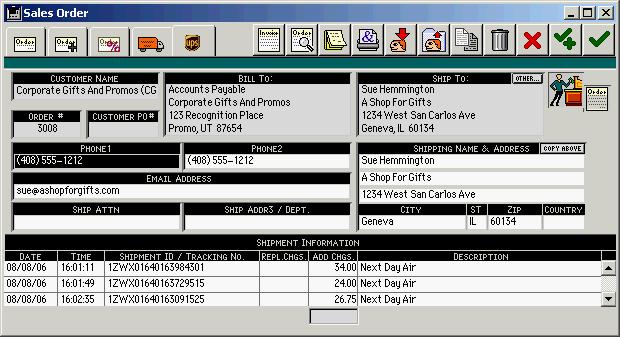 When using the Shipping Add-On to import shipment information from Big Business Server, you can also have the shipping system automatically update the Sales Order with Shipment Infomation.

Load Addresses adds an additional tab to the Sales Order where you can view the Shipment Information posted by the shipping system.

Shipment Informaton options:

1. Automatic Date and Time posted.

2. Description for describing the shipment with any selection of data (e.g. Service Level, ETD, etc.).

3. Tracking Number entry

4. Replace Other Charges, so Invoicing will automatically use the latest charge

5. Add Other Charges, so the order reflects cummulative shipping charges.

6. Add Printed or Private Comments to the Sales Order with any selection of shipment data (e.g. Tracking Number, Charges, ETD, etc.).

With a few minutes of setup, UPS WorldShip can be set to automatically update Big Business Server with Shipment Infomation that carries onto an Invoice or is easily referenced when needed.
Related: