Shipping: Address Entry
This feature is part of the Shipping Add-On, which is an additional module that enables ODBC-capable programs, such as Excel or UPS WorldShip, to retrieve data from Big Business Server.

This Solution describes using the Load Addresses option that is designed for integration with a shipping solution such as UPS WorldShip. (5987)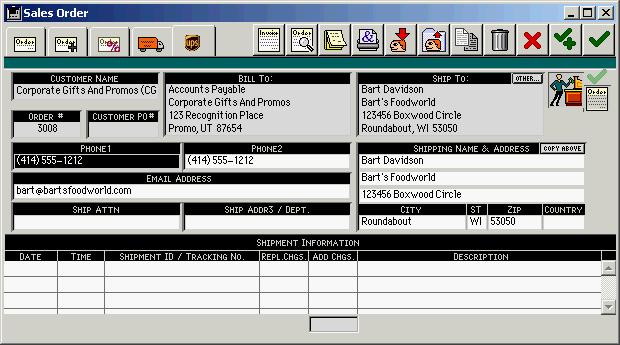 When using the Shipping Add-On to import shipment information from Big Business Server, it simplifies the import and streamlines the workflow to have the recipient's address and contact information added into the Sales Order, where it can be read along with the other details of the order.

Load Addresses adds an additional tab to the Sales Order where you can enter the shipping information for the order so it can be read by the shipping system.

Features of the Sales Order UPS tab:

1. Enter shipping information in discrete fields (e.g. City, State, and Zip).

2. Automatic completion of the Ship To text for printed output, plus a Copy Above button to update the Ship To text.

3. Additional fields for Phones, Email, Attention, and Address3 which can be read by the shipping system.

Use this option when you are entering shipping information for a single order that you do not need to save for future orders. To save shipping information use the Other button on the Ship To field to create a New Contact.
Related:
(Next) Shipping: Shipment Information