Print Preview
Big Business 3.0 includes an improved Print Preview for better on screen viewing of printjobs and Reports. This Solution provides a brief description of the tools on the new Print Preview. (3604)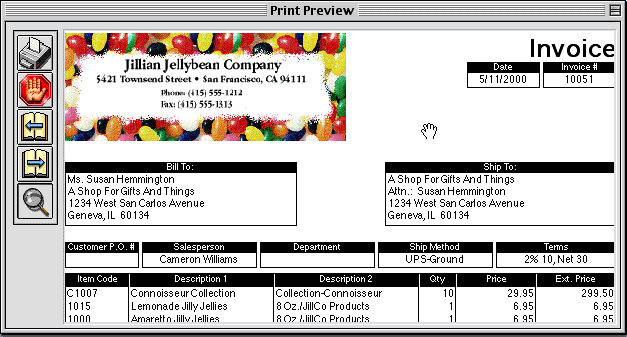 Use Print Preview before or instead of printing
Big Business Print Preview Features:

• Resize the Preview window by dragging the lower right corner. You can now resize the Preview to as large as your screen will permit.

• Five buttons for controlling the Preview window:
1. Print - click to go ahead and print the previewed printjob.
2. Stop - click to cancel the Preview and cancel printing.
3. Previous - click to go back to a previous page of the Preview.
4. Next - click to go forward to the next page of the Preview.
5. Zoom - click to toggle between full page and zoom mode.

To access Print Preview:

-From the Print Options list (used by transactions), select the Print Preview checkbox before printing.

-From a Print Dialogue, select Preview on Screen. This option may be hidden on a Big Business-specific page of the Print Dialogue.
Related: