Disable Inventory Update Before
Disable Inventory Update lets you defer changes to current inventory for back-dated Bills and Invoices.

This Solution provides an overview. (6506)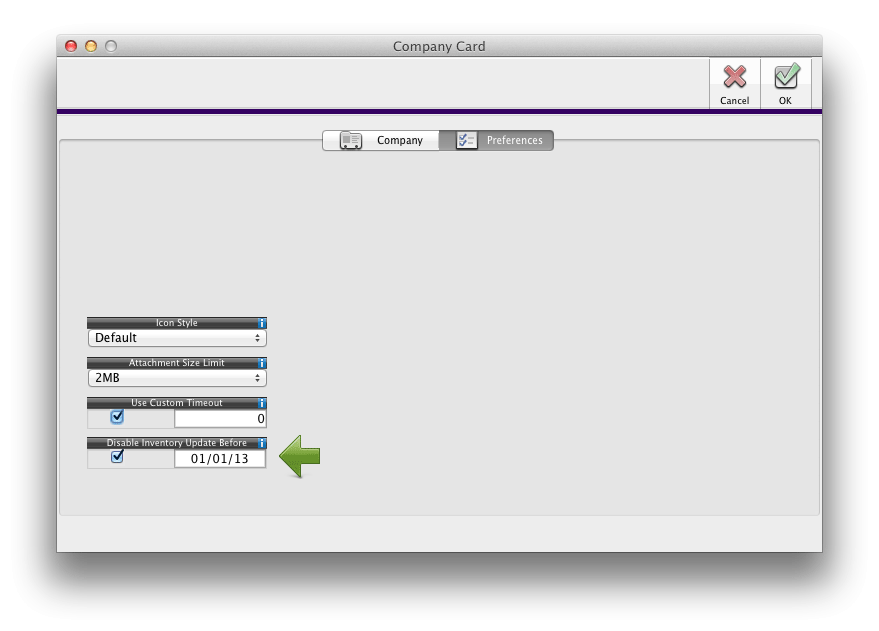 To disable Inventory Updates:

1. Go to the Company Card to the Preferences tab
2. Click the checkbox for Disable Inventory Updates Before
3. Enter a Date
4. Click OK to save changes.

You must restart Big Business for this change to take effect.

This setting prevents Bill and Invoices dated before the Date entered from changing inventory values. Creating or editing a backdated Bill or Invoice will not change Qty On Hand or Total Cost or related values such as Available and Average Cost.

This allows you to enter historic tansactions for reference and in doing so not disturb the current inventory counts.

When you are ready, Big Business can recalculate inventory values. In the Item Search click Apply and choose Verify Quantities.

Related: