Stored Documents
Big Business automatically stores Documents that you Attach:
• from the Folder tab on Customer, Vendor, Item, Contact, or Employee
• from a Note, to yourself or another user
• from the Docs Folder on transactions like Quote, Order, Invoice

Big Business automatically shares Stored Documents so they are available:
• to any Big Business Client, on Mac or Windows
• to the Note recipient
• to related transactions such as the Invoice for an Order or Quote

This Solution decribes this feature. (6494)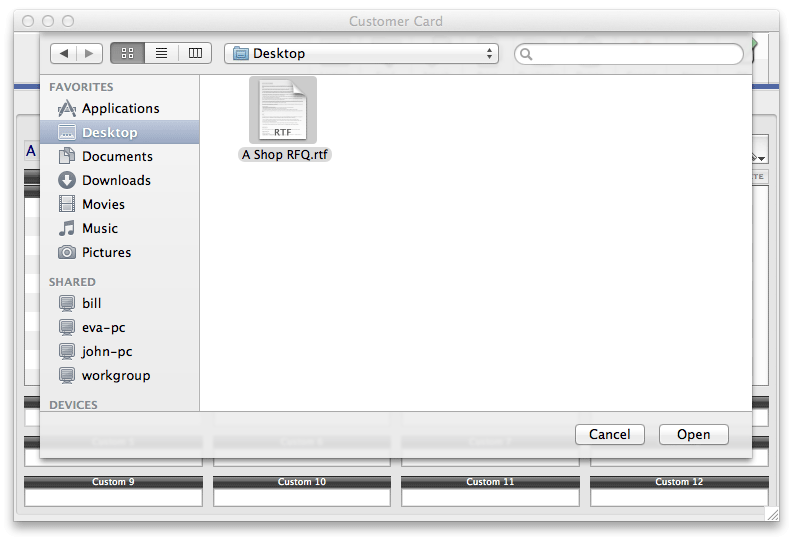 Big Business automatically stores Documents that you Attach to make sharing easy. When you add an Attachment from the Folder tab, Note window, or Docs Folder tool, Big Business automatically saves a copy to share with other users.

When another user tries to open the Stored Document, if the original is not accessible, a copy is made. This means all users on Mac and Windows have access to Stored Documents.

Big Business now sets a Size Limit of 1GB for Stored Documents, which works for any attachments like PDFs, business documents, and spreadsheets. Attachments that are over the Size Limit are linked as External Documents and are not stored.

To control automatic storing of Attachments:
1. Go to the Company Card to the Preferences tab.
2. Choose a setting for Stored Document Size Limit.
3. Click OK to Save the Company Card.

Related: