Choosing the Default Receivables Category
Choosing the Default Receivables Category (6479)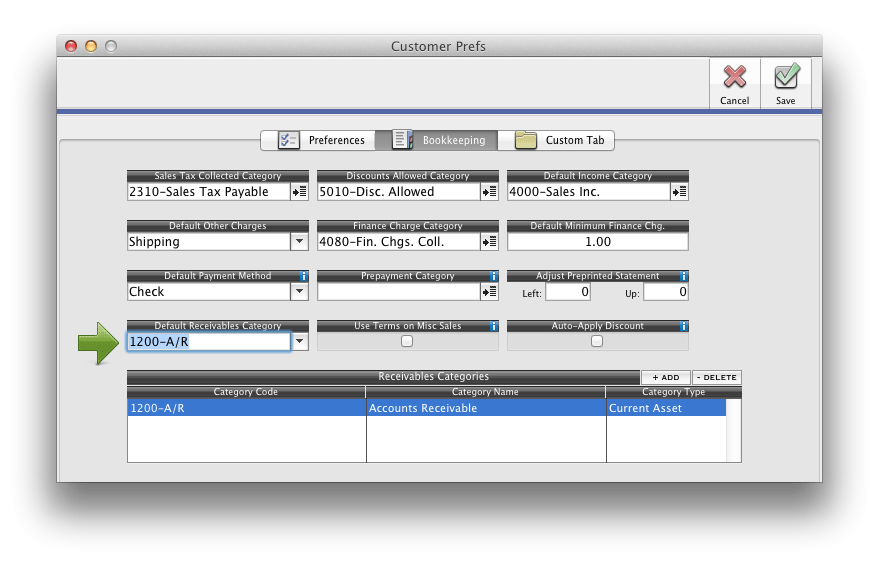 Big Business uses one or more receivables categories to account for unpaid customer balances--amounts that are owed to you. You use the Customer Preferences window to choose the receivables category that appears by default in new Customer Cards. You can override this category for individual customers in their Customer Cards.

Choose the account in the Default Receivables Category field. The categories you can choose from are specified in the Receivables Categories list.

Adding and Removing Receivables Categories
The Receivables Categories list contains all of the categories that can be selected as a receivables category, either for an individual customer in a Customer Card or as the default in the Customer Preferences window.

The list initially reflects the categories you designate during the setup process, but you can add new ones. To add a new category, click the button and choose a category from the list that appears. Only a category with a zero balance can be designated as a receivables category, so you will probably need to create a new category especially for this purpose. See "Working with Categories" in Chapter 10 for information about creating new categories.

You can remove a category from the list by selecting it and clicking the button. Big Business prevents you from removing a category that has a balance.
Related: