Setting Customer Defaults and Options
Setting Customer Defaults and Options (6475)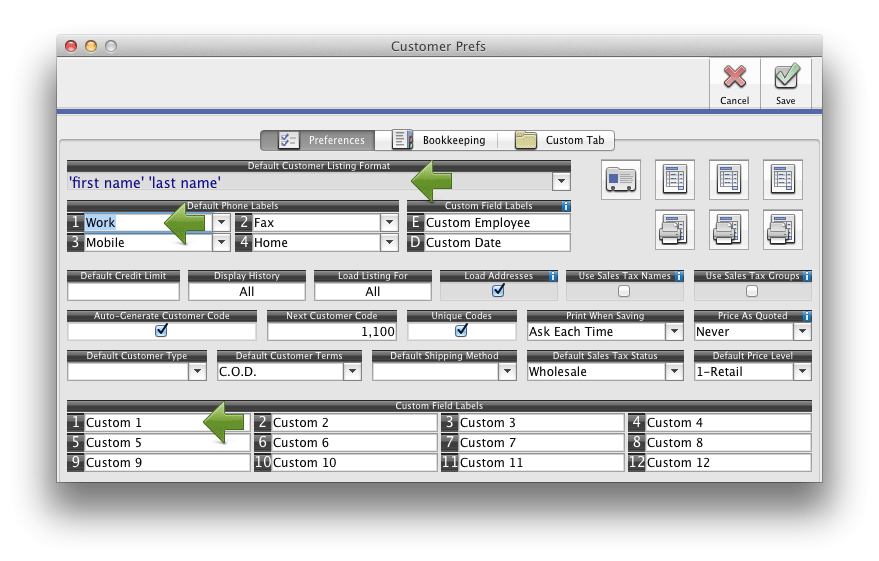 You can click the Preferences tab to define defaults and options used in customer windows.

Defining the Customer Listing Format
You use the Default Customer Listing Format QuickPop list to choose the default format in which customers are listed?company name, company code, primary contact name, and so on. The listing format you choose in the Preferences window defines the listing format used by default in new Customer Cards.

Defining Phone Labels
You can use the Default Phone Labels area to change the default label used for phone numbers in the Customer Card. The labels you choose define what appears by default in new Customer Cards, but doesn?t change existing labels. You choose labels from a list of possibilities that you can edit as needed.

Defining Customized Field Labels
The Custom Field Labels area defines the labels of the customized fields that appear when you click the Folder tab in the Customer Card. Changing a label name in the Preferences window changes the label of the corresponding field in all Customer Cards, but doesn?t affect the entry in the field itself.

Related: