Using the Toolbars and Tools Menus
Using the Toolbars and Tools Menus (6349)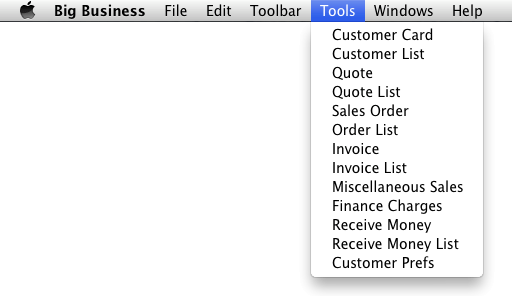 You can use menu commands instead of the toolbar to open windows. This option is particularly helpful if you decide to hide the toolbar.

You use the Toolbars and Tools menus in combination to open windows. The Toolbars menu is equivalent to the toolbar selector. It allows you to choose among the eleven Big Business toolbars.

The Tools menu is equivalent to the array of tools in the toolbar. The current selection in the Toolbars menu determines which tools appear in the Tools menu.

To use the Toolbars and Tools menus:

1. In the Toolbars menu, choose the toolbar you want.
A checkmark appears next to the toolbar you select.

2. In the Tools menu, choose the window you want.

3. If you see a dialog box, select from the list and click the
button. The dialog box disappears and the window that you chose opens.
Related: