Vendor Part Numbers
The Alternate Item Codes feature lets you specify an unlimited number of Vendor Part Numbers, which are automatically inserted on Purchase Orders and Bills. (6212)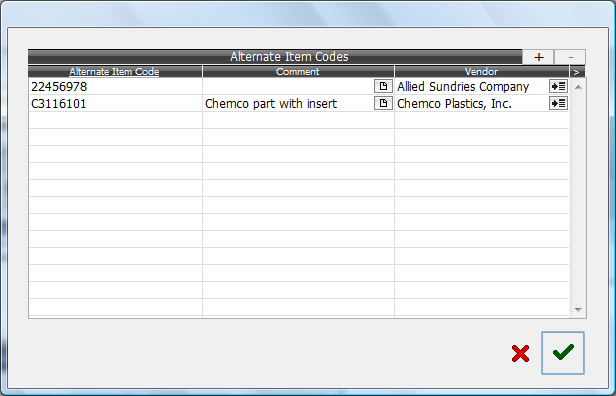 The Alternate Item Codes feature lets you specify an unlimited number of Vendor Part Numbers, which are automatically inserted on Purchase Orders and Bills.

Click the Comment button to open the Line Item Comment window to edit contents more easily, add new lines with Return, and Check Spelling.

Click the Vendor button to show the Vendor Listing, or just enter a few characters of the Vendor Name. Like the Vendor Name on the Item Card, you can also delete the name to remove the Vendor.

Alternate Item Codes can be used to add Items to any transaction. It is important that Alternate Item Codes are different than your Item Codes. If needed add the Vendor Name to their Part Number to ensure it's unique.


Related: