Chapter 13: Importing Information into Big Business
Chapter 13, page 2, Importing Information into Big Business describes exporting tab-text from prior systems to import into a new Data File. (6140)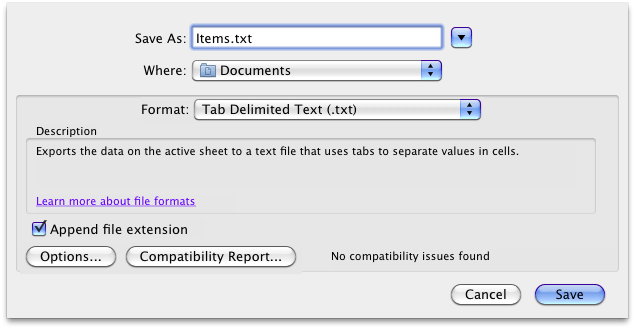 You can import data into Big Business both at setup time and after setup. At setup time, you can import basic information such as company names and addresses, charts of accounts, and beginning balances.

After setup, you can import detailed information such as contacts, transaction histories, and payment information, but you can not import balances.

The import feature makes it easier to consolidate data you may have in several different programs into an integrated solution under Big Business. For example, you can import a list of contacts from a contact manager. You can also import financial records, such as lists of transactions, general journal postings, and budgets.

When you export from accounting software or other programs, make sure the data is placed into a text file in which individual items of data are separated by tabs. The information you import into Big Business must be in tab-delimited, text-only files.Such files can be exported by most spreadsheet, database, and information management programs.

For example, suppose you have a spreadsheet file with a row for each customer and columns for name, address, city, state, and zip code. When you export the data, each line is converted into a paragraph and each column is converted into a text field separated by tabs. The name, address, and other entries are contained in this paragraph, separated by tabs.
Related:
(Prev) Chapter 13: Setup Details and Importing Data
(Next) Chapter 13: Importing Data at Setup Time
Chapter 13 Contents