Alternate Item Codes
Alternate Item Codes make is easy to use other part numbers like Barcodes or UPCs. Customer Part Numbers let you automate Orders. Vendor Part Numbers protect from being shopped around. And creative uses like custom Catalog P/N's abound.

This Solution provides an overview of the Alternate Item Codes functionality. (6002)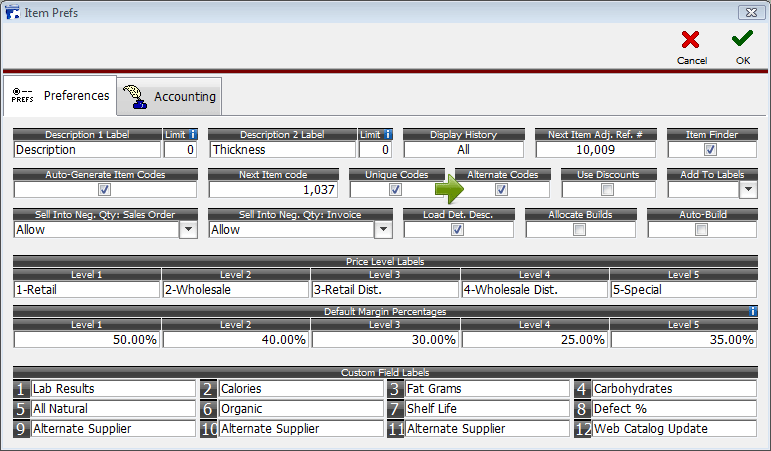 Alternate Item Codes are additional part numbers for looking up an Item and adding it to a transaction. Examples include:
• UPC and other scannable barcodes
• Vendor or Manufacturer part numbers
• Alternate, replacement, or substitute part numbers
• Customer part numbers
• Part numbers for styles/colors/configurations of common Items

Big Business maintains a separate listing of Alternate Item Codes which it checks first when an Item Code is entered on a transaction. If a match is found, the corresponding Item is selected and its regular Item Code and Descriptions are loaded.

To enable Alternate Item Codes:
1. Open the Item Prefs
2. Click the Alternate Codes checkbox
3. Save the Item Prefs

Once enabled, Alternate Item Codes places a button in the Vendor Part Number field on the Item Card for adding Alternate Item Codes. The Import tool on the Mainenance toolbar includes an Import for Alternate Item Codes.

Once Alternate Item Codes have been added, you can enter an Alternate Item Code on a transaction, such as a Sales Order, in place of the regular Item Code and the corresponding Item will be selected.
Related: