Inventory Sales Analysis Report
Big Business includes the Inventory Sales Analysis Report which Saves To Disk and includes extensive information about inventory and sales, including quantities as of a beginning and end date, costs, adjustments, sales, margin, and turnover.

This Solution describes the Sales Analysis Report. (5968)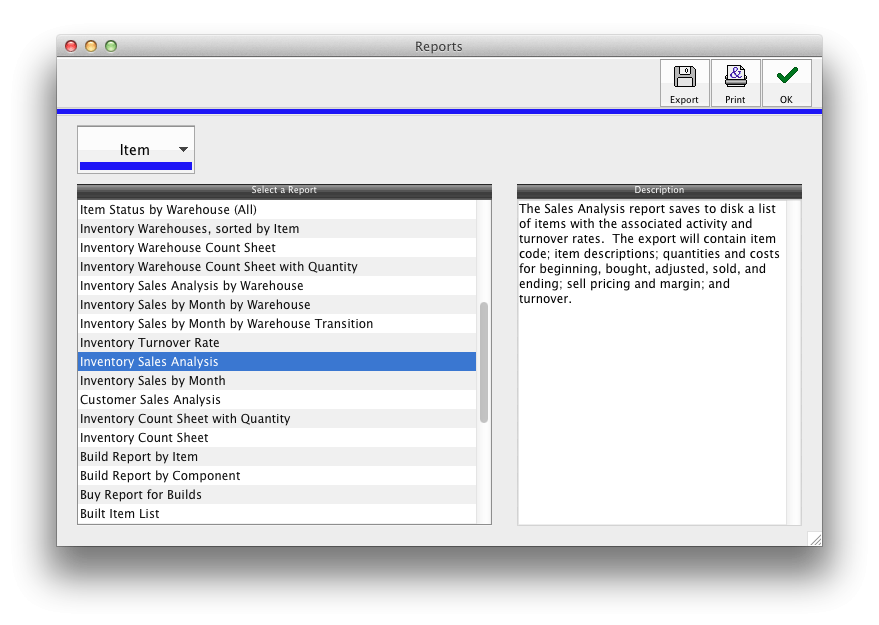 The Inventory Sales Analysis Report is included in the Reports tool under Items. Because it contains so much information, it only Saves To Disk, and may take a while to run as it calculates stock levels as of its beginning and end dates and summarizes all transactions in the date range.

The Inventory Sales Analysis Report contains:
• Item Code
• Description1
• Description2
• Beginning Quantity
• Beginning Total Cost
• Buy Quantity
• Buy Total Cost
• Buy Average Cost
• Adjusted Quantity
• Adjusted Total Cost
• Sell Quantity
• Sell Total Price
• Sell Average Price
• Sell Total Cost
• Sell Average Cost
• Gross Margin Percentage
• Ending Quantity
• Ending Total Cost
• Actual Turns
• Annual Turns

The Report starts with an Item Search, so can be run for any group of resulting Items. Often, it will make the most sense to select the Search:
"Inventory Item Is Yes"
to run it for active Inventoried Items, but you may also run it for a particular Item Type, those with a Last Sold Date beyond a certain date, and so on.

To open the resulting export in Excel, launch Excel, go File, Open, and choose the file. On the Text Import Wizard click Finish.

Related: