Item QuickSearch for All Text Fields
Big Business 5.0.8 adds a search criterion to the Item QuickSearch for All Text Fields, which searches: Item Code, Description1, Description2, Tags, Custom Fields 1through 12, and the Detail Description.

This Solution describes this feature. (5948)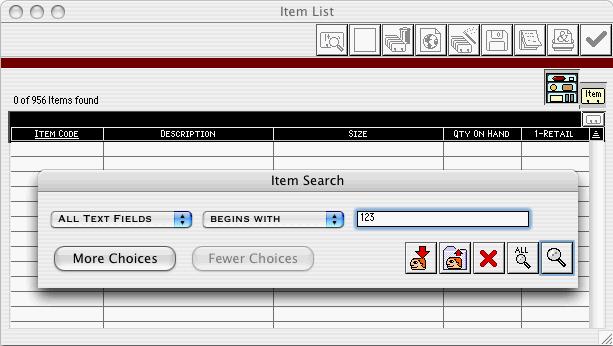 The Item QuickSearch for All Text Fields can be a lengthy search but may be indispensable for finding:
• Alternate Part Number stored in Custom Fields
• Items that list an Add-On part number in Custom Fields
• All Items that contain a specific measurement or attribute


All Text Fields searches:
• Item Code
• Description1 and Description2 (which may have a Custom Labels)
• Tags
• Custom Fields 1 through 12 (which may have Custom Labels)
• Detail Description


To Use:
1. Open the Item QuickSearch
2. In the first pulldown for the search criterion choose All Text Fields
3. In the second pulldown choose the search operator (Begins With, Contains, etc.)
4. Click OK to commence the search

If you have a large number of items (10,000+) the search may take a while. Also, Contains searches take longer than Begins With searches.
Related: