Build/Bundle Line Item Report
The Build/Bundle Line Item Report allows you to:
• Find Built or Bundled Items that meet the Search criteria entered
• Report the Components for the Items found
• Export this Bill of Material information for editing in a spreadsheet
• Create a file for use with the Build/Bundle Line Item Import

This Solution describes the new report. (5927)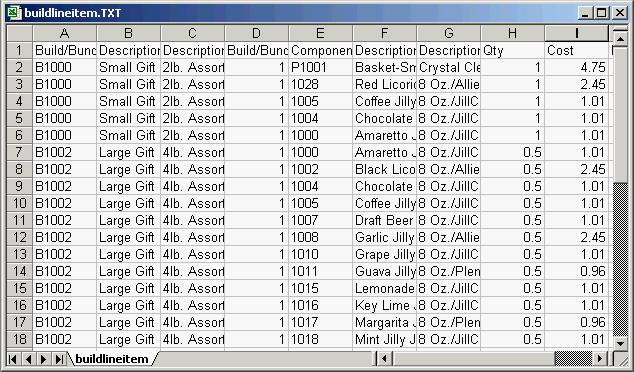 Export the report to edit in a spreadsheet
The Build/Bundle Line Item Report allows you to:
• Find Built or Bundled Items that meet the Search criteria entered
• Report the Components for the Items found
• Export this Bill of Materials information for editing in a spreadsheet
• Create a file for use with the Build/Bundle Line Item Import

The Build/Bundle Line Item Report is found in the Item Reports. The Reports tool is found on the InfoCenter toolbar or in the File menu.

When the report runs, an Item Search dialog appears. Enter your Seach criteria (e.g. Component Item Is Equal To...) and click OK or click All. The reports finds all Built or Bundled Items that meet the Search criteria. Use the criterion, Build/Bundle Item Is... (Build or Bundle) to isolate one or the other.

To Print the report, double-click the report, or select the report (single-click) then click the Print button. To view the report on screen, OK the Print Setup and on the Print dialog choose Preview On Screen in the lower left corner of the Print Dialog.

To Export the report, single-click on the report to select it, then click the Save To Disk button. Name and Save the report in a convenient location.

To Open the export in a spreadsheet, launch the spreadsheet program, go to the File menu and choose Open. You may need to change the file-type selector on the Open dialog to see the exported report. If an import wizard appears, click Finish. If you edit the report and want to import the changes to Big Business, be sure to save the file again in Tab-Text format.

To Import the exported report, use the Build/Bundle Line Items Import.
Related:
Build/Bundle Line Items Import