Controlling Access to the Reports Tool
Big Business includes access controls for Reports on the Access tab of the Employee Card. If the employee has access to the Report tool, you can restrict that access to specific report groups:
• Customer Reports
• Vendor Reports
• Item Reports
• Banking Reports
• Employee Reports
• Bookkeeper Reports
(5876)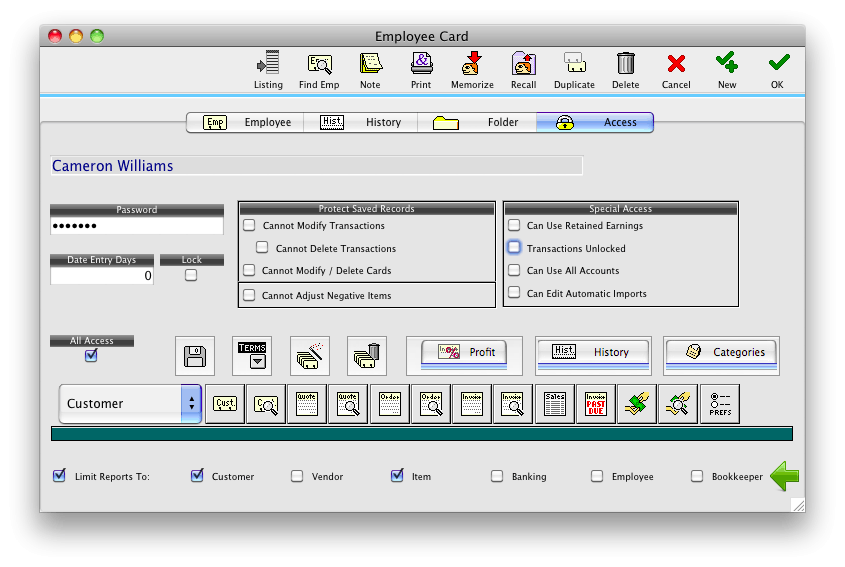 You can limit an Employee who has access to the Report tool to specific report groups:
• Customer Reports
• Vendor Reports
• Item Reports
• Banking Reports
• Employee Reports
• Bookkeeper Reports


To Limit an Employee's Access to Reports:
1. Open the Employee's Card to the Access Tab
2. Click the checkbox to Limit Reports To:
3. Click the checkbox(es) for the Report groups the employee can use
4. Save the Employee Card

Test the new settings by choosing Switch User from the File menu or Maintenance toolbar and Signing-In as the Employee in question. If the settings are correct, the Employee will be able to open the Report tool (from the File menu or InfoCenter toolbar) and the pulldown menu will be limited to just those Report groups selected in step 3 above.

If the Employee does not have All Access or access to the Report tool, these settings will have no effect.
Related: