Web Server Security
The Web Server built into Big Business automatically supports secure connections.

This Solution provides details. (5838)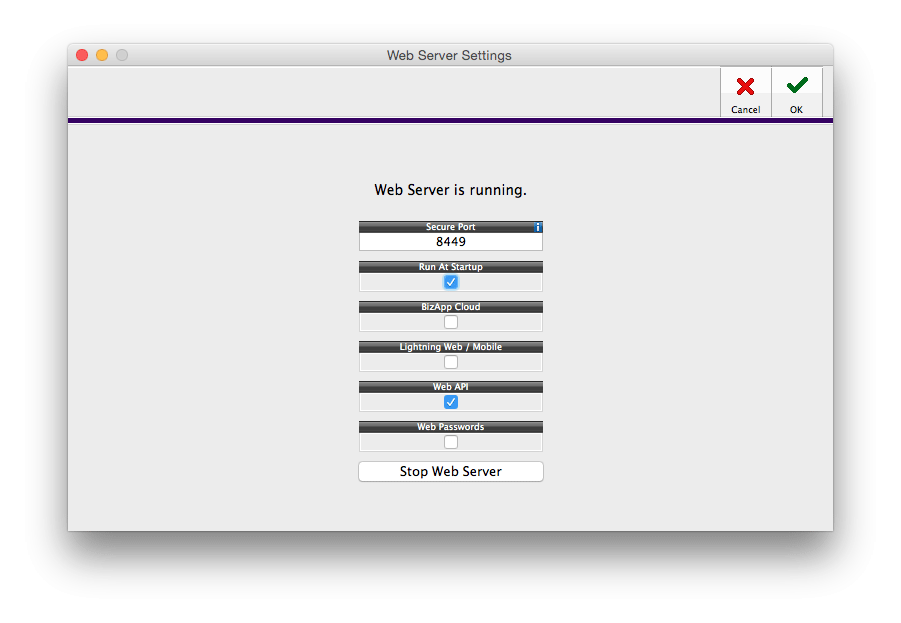 The Web Server built into Big Business automatically supports secure connections.

For example, to connect an iPad solution, like BizApp9, you just set a Secure Port and click Start. You can use any port, such as 443 or 8080, to avoid any conflicts. When the Web Server starts Big Business automatically creates needed keys and certificates. When you connect iPads, the connection is secure, and your data is safe.

When the Web Server is running it sets its Standard Port to the one below the Secure Port. For most uses the Standard Port is blocked. For example, iPad connections are rejected if they are not secure. Depending on your needs, this can be changed, but it means you should not rely on the Standard Port, even for testing.

Web Server Settings are found in your Big Business Client on the Maintenance toolbar. With few exceptions, the Database Settings and HTTP Tab on the Server are not used. Clicking Start on the Server Administration Window does not work to complete the required setup. You must click Start in the Web Server Setting in a Big Business Client. And, you must provide credentials, such as creating a Token for each iPad, in an Employee Card.

Depending on your use, you will receive simple step-by-step instructions for setup. These are often included in an email along with any needed Registration Codes.
Related: