Custom Forms: Exporting
Big Business 3.0.6 finalizes the functionality of controls for Importing, Exporting, and Deleting Custom Forms and Reports.

The new interchange format is not platform specific, meaning a Custom Form exported from the Mac can be Imported on a Windows machine and vice versa.


(5613)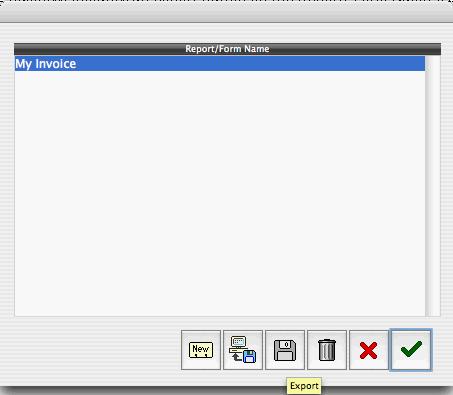 Select the report to export and click the Export button...
Big Business includes an Export button on the Report/ Form Name window in the Custom Form tool. Use this button to export any existing Custom Form or Report, in order to:

• Archive it for future use
• Move it to another data file
• Send it to support@bigbusiness.com for review or to share with other users.


To Export Report/Form Templates:
1. Open the Custom Form/ Report tool.
2. Select the Report/ Form to be exported.
3. Click the Export button.
4. In the Save dialog which appears, choose a location to save the form and give it a name.




Related:
(Prev) Custom Forms: Importing
(Next) Custom Forms: Deleting