CheckMark Payroll (Win): Set Up
This Solution provides set up information for using CheckMark Payroll (available for both Macintosh and Windows, directly from Big Business Sales) with Big Business. It supplements CheckMark's documentation and provides important tips so that you can easily update your Big Business Company file each payroll period. (3424)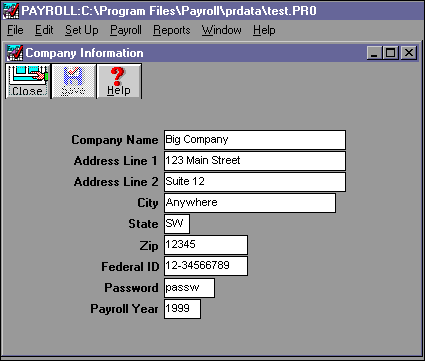 Set Up CheckMark Payroll:
CheckMark Payroll is a complete payroll solution, which works well in conjunction with Big Business. Here are some of the advantages CheckMark Payroll offers:

• Creates exports tailored to Big Business for immediate and complete updating of your Checking and Employee records within Big Business

• Uses the same Deluxe preprinted checks Big Business does

• Available for both Macintosh and Windows, with cross-platform mobility

The keys to setting up CheckMark for use with Big Business are:

• Entering Employee Social Security Numbers in CheckMark's Employee Setup, exactly as they appear in on Employee Cards in Big Business

• Entering Big Business Account Codes into CheckMark's Ledger Setup

• Using the option in CheckMark Payroll to Report in Big Business format and Save As a text file.

• Setting the Payroll Liability Category (on the Employee Prefs card) and the Default Other Expense Category (on the Banking Prefs card) to the same Category in Big Business before importing your payroll.

Related: