Big Business Check Layout
Many companies move to Big Business while they still have a surplus of check stock from their previous system. Big Business uses a built-in check layout that calls for a specific format.

This Solution provides information about compatible check stock. (3418)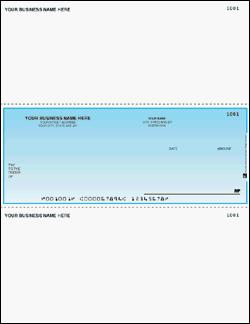 Big Business is designed to use cut-sheet laser checks using a standard format with the check in the middle of the page, a remittance stub at the top, and a receipt stub at the bottom that you keep for your records.

Deluxe, the largest US check printer, provides a compatible form, their #81013. There are a host of other check printers that may provide compatible forms and samples for testing. If needed, create and print a test check to plain paper to check the alignment or provide to your printer.

To order checks (or samples) for Big Business from Deluxe:
1. Call Deluxe at: (800) 336-4168
2. To tell them you are using Big Business, provide Service Code: T08830
3. Order form #81013

The Forms Info screen, accessible from any Print Options list in Big Business, provides forms information for a variety of preprinted forms.

CheckMark Payroll, now available from Big Business Sales, uses the same check (#81013).

NOTE: Deluxe no longer offers labels; Big Business now contains updates to support standardized labels available from any office supply store.

When ordering checks you will be asked for various information including name, address, and banking infomation, as well as starting check number and whether you might need the checks in reverse sequence--to accomodate an older or non-standard printer that loads paper face down. Deluxe is very helpful in this process and will replace your order if there is any problem.
Related: