On Screen Previewing from Print Dialogue
To save you time, Big Business suppresses the Page Setup and Print dialogs you normally encounter in other applications. This allows for automatic printing of transactions and batch printing of numerous transactions. For example, you can specify in the Customer Prefs tool that you always want Invoices to Print automatically (Don't Ask option). You can select an Invoice and Packing Slip to print (2 print jobs) without having to reply to two print dialogs. Or, in a QuickSearch you can find a group of records to print individual copies of and, for example, print fa batch of 20 Invoices and Packing Lists without seeing the corresponding Print dialogs.

Using the Print Preview option in Big Business allows you to:
-view output on your screen without printing it
-preview before printing

Previewing can save you time and paper, allowing you to get quick answers without waiting for printouts. You can verify that the content and layout of your print job is correct, or that you have specified the correct criteria for the desired output.

Keep in mind that the Print Preview option, previews ALL print jobs specified. So, the example above (Invoices and Packing Lists) would generate two previews. (3268)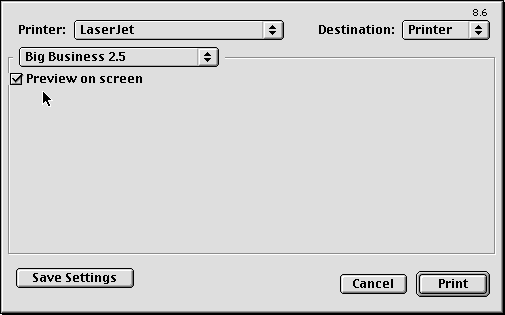 In the LaserWriter 8 Print Dialogue, pull down to Big Business and click Preview on screen:
For print jobs that do not use the Print Options menu, such as Reports, the Page Setup and Print dialogue will appear automatically:

Click OK on the Page Setup dialogue to proceed to the Print dialogue.

The option to preview your print job on screen is contained in the Print Dialog and varies from print driver to print driver. Some possibilities:

• Select the Preview on Screen option in the lower left corner of the the Print Dialog.
• Select Big Business from a Pull-Down menu and select Preview on that screen.
• Select Properties or Options to open another dialog where you can select Preview.

Refer to documentation for your computer and/or printer for information on previewing with your particular printer configuration and driver.

Once you have selected Preview in the Print Dialogue, click Print.

On screen controls will allow you to Zoom, go to the Next Page, Print or Cancel.



Related: