Data File Locked Alert
Big Business (Server) shows an Alert when your Data File is Locked, saying, "You cannot open this database because the data file (or one of its segments) is locked."

This Solution provides a quick overview of why the Data File might be locked if you encounter this alert. (5886)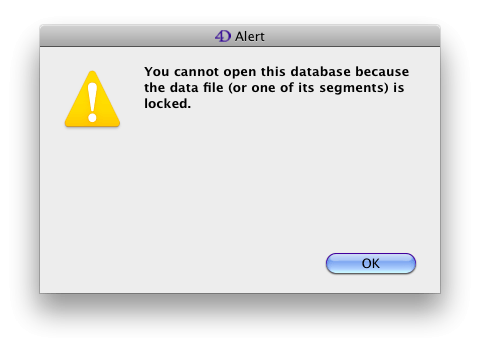 Big Business shows an alert when attempting to open a data file that is locked.

Common causes of a locked data file include:

• The data file is Read-Only because it was copied from a CD, or other Read-Only media. Windows preserves this attribute, so when you copy from a CD, you need to right-click on the copied file, choose Properties, and uncheck the Read Only attribute.

• The User does not have write permission on the data file. If you have logged on to the computer as a Guest or non-Admin level user, this may be the problem. Check with your System Administrator or try a higher level logon.

• The data file is already in use by another application. If another copy of Big Business, Big Business Server, Big Business Tools, etc., is already using the data or the operating system is moving or copying the data it may be locked until the other program or operation is terminated.



Related: