Using Replacement Tags in Notes
Replacement Tags are a convenient feature for automatically inserting Customer information into the Notes on Quotes, Sales Orders, and Invoices. From the Insert menu you can select any Customer field including: name, address, phone, custom fields, and so on.

This Solution describes the Replacement Tag functionality. (5870)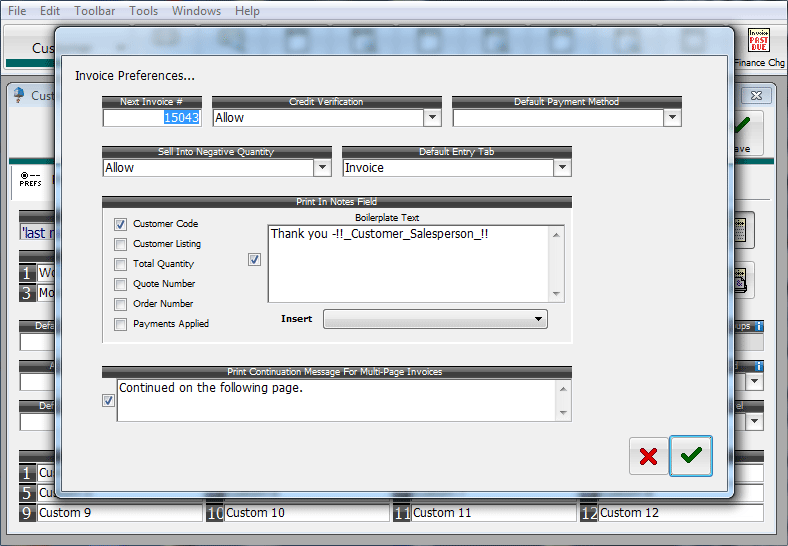 Built-In forms for Quotes, Sales Orders, and Invoices include a box for Notes, next to the Totals, which combines any Printed Comments you have added on the transaction with the Print In Notes settings in Prefs. Among these settings are predefined choices like Customer Code and Boilerplate Text, where you can enter a message to be included on every transaction.

Replacement Tags let you insert information from the Customer Card into your Boilerplate Text message. When printing, the Tags are replaced with actual customer data, just like a Mail Merge in a word processor. In the picture example, Phone1 and Phone2 were selected from the Insert menu and their Replacement Tags are listed in the Boilerplate Text. When an Invoice is printed, these Tags will be replaced by the Customer's phone numbers.

To Add Replacement Tags:
1. Open the Customer Prefs
2. Open the Quote, Sales Order, or Invoice Prefs
3. Click the Boilerplate Text checkbox
4. Type your message (e.g. "Your Customer Number is: ")
5. Select a Replacement Tag from the Inser pulldown (e.g. "Customer Code")
This will add the Tag ("!!_Customer_Code_!!") into your text.
6. Click OK to save the Quote, Sales Order, or Invoice Prefs
7. Click OK to save the Customer Prefs
Print a transaction to test and edit as needed (e.g. insert a return to separate this message from Printed Comments).

This feature only works with Built-In forms. If you are using a Custom Form you can add access Customer Fields directly.
Related:
Notes on Invoices
Notes on Sales Orders
Notes on Quotes
Related Fields in Custom Forms