Big Business Server Shows 'Ghost' Users
Big Business Server is set so that it will wait indefinitely for Client which is no longer responding. This prevents the Server from accidentally disconnecting a working Client, but means that a Client which has crashed or gone to sleep stays on the server until Abort or Restart.

With 'ghost' users still connected to the server, you may receive a warning that you are out of user licenses when attempting to connect.:
"The Maximum Number of Users are currently using Big Business. Please contact your Administrator to increase the number of Users." (5693)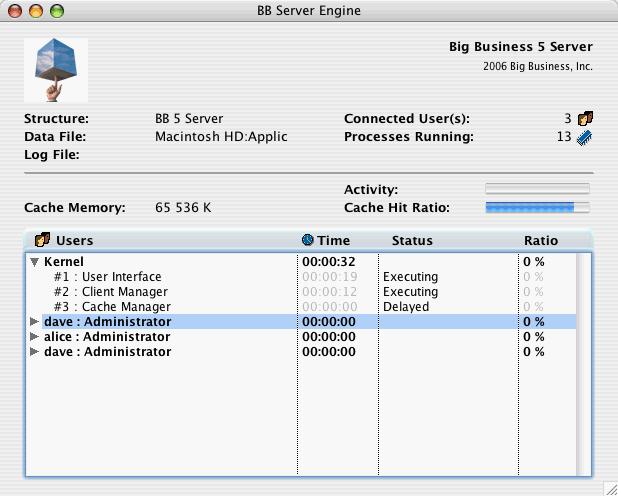 Big Business Server is set so that it will wait indefinitely for Client which is no longer responding. This prevents the Server from accidentally disconnecting a working Client, but means that a Client which has crashed or gone to sleep stays on the server until Abort or Restart. Here are some remedies:

1. Check for problem client workstation. Look on the server process screen for duplicate names. If a workstation appears twice, check that the computer is not going to sleep or crashing, causing the disconnect.

2. Abort the duplicate user. The first instance of a name may no longer be active. You can select the name (highlight by double-click, e.g. "dave," pictured) and then choose Abort from the Process menu. This will remove the user (even if active).

3. Restart BB Server. This clears all users. Have current Users save their work and Quit, first.

4. Change the timeout settings on the Server. Open Preferences, then Application, then Client/Server. Set the Client/Server Connections Timeout to some minutes (from 'No Timeout'). This will automatically disconnect the Client after a period of inactivity.
Related: