Support for Standardized Labels
Big Business 2.0 designates several Deluxe labels for use with Big Business. Deluxe is no longer offering these labels.

The labels in question are:
#92127 or #91863, 3-up labels used for Addresses and Price Labels
#82050 or #82121, 2-up labels used for Addresses and Price Labels
#82116, 6/sheet labels used for Shipping Labels and Allocation Tags

This Solution provides detailed information for selecting compatible labels from the many standardized label sizes available. There are a few other important issues to keep in mind when printing labels from Big Business:

-Label alignment can be affected by Page Setup Settings. Test print on plain paper to assure exact alignment. If there are alignment problems, check the Paper Size specified in the Page Setup and/or that you are using the correct printer driver (PostScript preferably).

-Labels designed for LASER printers (and photocopiers) use special adhesive to withstand high temperature, and the printable surface always covers the entire page (labels are die-cut in a full page). Using labels that are not designed for laser printers, are not a solid sheet, have missing labels or exposed edges, or are otherwise questionable, increases the risk of a label detaching inside your laser printer, which may seriously damage your printer.

(3209)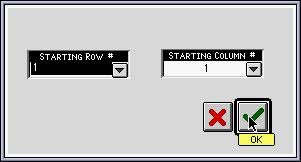 Specify the Starting Row and Column of the next available label:
Big Business designates labels in physical dimensions and references Avery(R) label numbers to help you easily select compatible labels from the many standardized sizes available.

Big Business includes the ability to print on a previously used sheet of labels to assure that no labels go to waste. When printing labels, specify the Row and Column of the next available label on the sheet, and Big Business will start with that label. Label usage is from right to left and then top to bottom. For example, the second label used is on Row one, Column two.

Always check that the labels you are using are compatible with your printer. Check your printer documentation for any warnings about printing labels or printing on partially used sheet of labels. Missing labels, high temperatures and a convoluted paper path increase the risk of a label detaching from its sheet while printing, which may cause serious damage to your printer.


Related: